In plastic windows we use PVC profiles. PVC profiles are lasting and stable. They not rot, resistant for burning.
Weakness heating saving place in home - windows. Our plastic windows are from high quality GEALAN's profiles distinguish with good heating isolating from (k= 1,1 W/mK).
PVC profiles are resistant for mechanical influence - mutilations, deformations, breakings.

For plastic windows glazing we uese high quality glass from England. Glass is making by "float technology, whish assurances very flat surface, good visibility and not mutilates view. Windows are hermetic and glass is mobile.
For lodging safety glass with pellicle assurances from fire, blow, break.
Packet with high quality "Pilkington" glass distiguishes and good sound isolation. Usual construction and resistant material distinguishes durability.
You can choose different shapes and opening type windows. Use these possibilitys.
We could make these shapes:
| | | | | |
| --- | --- | --- | --- | --- |
| 1 | 2 | 3 | 4 | 5 |
| | | | | |
| 6 | 7 | 8 | 9 | 10 |
| | | | | |
| 11 | 12 | 13 | 14 | 15 |
| | | | | |
| | 16 | 17 | 18 | |

Efficient and recyclable.

The main ingredient that we use to make our doors and windows is uPVC, made up of 57% chlorine (taken from table salt) and 43% mineral oil. PVC is thus saves the limited oil resources. So that PVC can be used in window profiles, other additives such as stabilisers, lubricants, polymers, fillers and colour pigments are added to the recipe.

Growing market percentage for vinyl windows.

The fenestration market is currently dominated by three materials: uPVC, wood and aluminium, either alone or in combination. Which material is used depends on several factors, such as the type of building, local zoning laws and construction regulations, the builder's personal tastes and the costs involved. One factor that is gaining in importance is the environmental impact caused by production, installation, usage and disposal.

With a market share of 54%, uPVC is the most important construction material in Germany, ahead of wood (26%) and aluminium (20%).
PVC ecological balance: advantages through recycling

In the recent past, several studies have been made on the environmental impact caused by the various raw materials used in the fenestration trade. For example, the report released by the Swiss Material Testing and Research Facility EMPA in 1996 clearly shows that
the energy lost during the usable life-span of a window plays a much larger role in the environment than production-related environmental impact
window frames with a closed recycling programme, such as uPVC window frames, earn a higher rating due to reduced environmental impact
none of the tested materials showed any decisive advantage or disadvantage in environmental concerns
Therefore, material boycotts and usage bans are, according to EMPA, unfounded.

PVC at the top

In respect to vinyl windows, it is evident that based on its excellent thermal insulation properties, its working recycling system, its worry-free maintenance and its long life will ensure that they will continue to lead in environmental aspects.
SPECIAL OFFER - Renolite - even color with wood pattern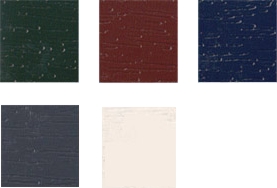 The following wood decor patterns are available at this time. The basic PVC profile and the wood imitation coating are homogeneous united by a special method and is scratch-proof and weather resistant.