No news.

GEALAN's window qualitys:
Good sound isolation
Good heating isolation
Double pack system
Durability
Simple care
Energy saving
Minimal heating
Color variety
Profile strength
Reliable safety
Economic
Big installing depth (62 mm.)
Easy to clean
Possibility remake
Not harmful for enviroment
Profiles are strenghthen with zinc steel core, and has high heating isolating characteristic.

GEALAN's windows systems already ten-years accords these requirements: decreases energy's expenditure and CO2 throws out to enviroment. In windows we use three chambers profiles, which installing depth is increased to 62 mm. This depth ensures good isolation of heat in winter and in summer protects from tireting heat. GEALAN enterprise windows easy to clean and simply to overseer.
"GELANGA" creates plastic windows, doors, facades, winter gardens. Production of windows we choise one of best European profiles. G.U. (Gretsch-UnitasGmbH) opening and closing mechanism

UAB "GELANGA" is in Vytauto g. 24, Vilkaviskis.
Enterprise started to work when was installed in our own production base new GEALAN (Germany) plastic windows production line.
GELANGA can offer windows, doors, facades, winter gardens.
At this time in enterprise works 10 people. 4 of them forms administration. Others - departament workers and mobile team fitters. They are very young, energetic, initiative and clever workers

GEALAN offers an extensive line of vinyl window profiles systems for the professional assembly of windows, doors and external roll shutters. Whether as edge-seal or centre-seal solutions, whether flush or semi-recessed in design, GEALAN profile systems are made to meet all architectural requirements for usability, stability, durability, easy maintenance and environmental friendliness.
No matter whether you're building a new house or renovating, choosing the right window is important. Which window will be used depends on the importance of appearance, performance or ease of use. Vinyl windows made of GEALAN profiles - your right choise.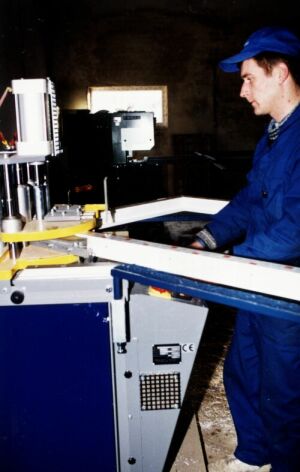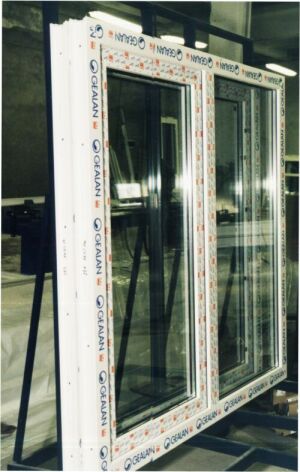 Now you can order GEALAN windows through internet. You will need to fill up order form and send it.